Devils Never Cry
After a long debate of whether to draw Dante twirling the swords Agni and Ruda, Dante kicking ass, or Vergil and Dante kicking each other's asses, I somehow settled on Dante crying... go figure... O.o So yeah, this is based on the end of Devil May Cry 3, where Dante breaks the saying "devils never cry" and cries over pseudo-killing his twin brother Vergil. This also inspires the name of his future devil-hunting business. The problem is, Dante cries off-camera, so I thought all the fangirls out there might want to see it.
Dante's in the foreground, holding his mother's amulet which is symbolic for remembering his brother. Vergil's in the background, holding a matching amulet. I can't draw metal or gems. ~_~x This was a very experimental picture where I tried to use blues or violets to color skin. It's also the first time I gave a guy an upper lip. I like how the shading turned out, but I hate the clouds. Outlines in marker, colored in Photoshop.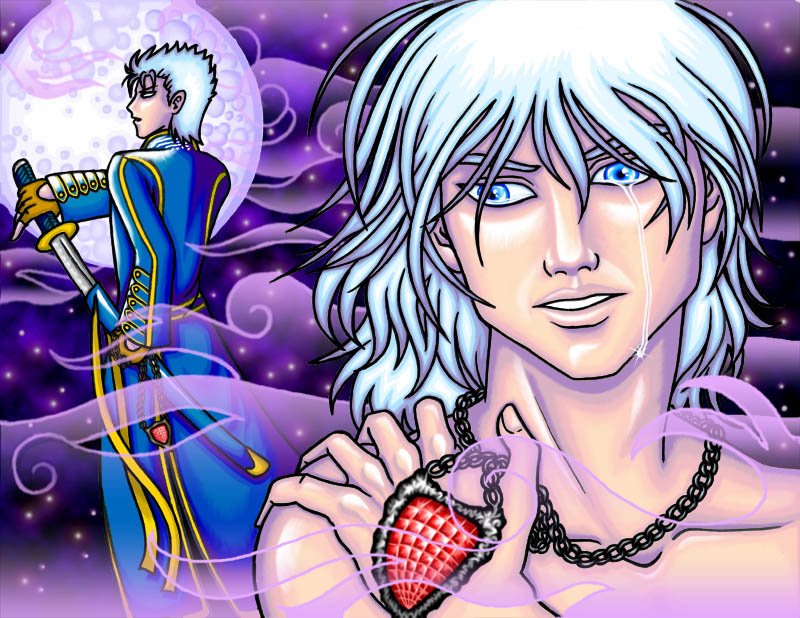 Copyright 2005 by Yumeni www.twilightvisions.com. All rights reserved.
Revised: 12 May 2010 07:46:39 -0400 .